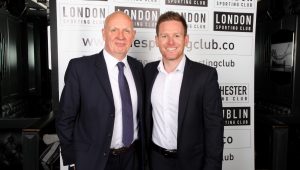 Alexander Charles Associates (ACA) CEO Kelvin Trott appreciates the networking benefits of membership of the London Sporting Club and recently brought some of ACA's valued clients to one of their sporting lunches. Paralympian David Smith was also a guest of ACA and we have great pleasure in sponsoring (jointly with Link Financial) his participation in the world pursuit cycling championships in 2020-2024 for the Great Britain team.
Overcoming Challenges and Achieving Sporting Success
The principal guest and speaker was Eoin Morgan, Captain of the World Cup winning England Cricket team. Also present was England rugby world cup winner Iain Balshaw who spoke about the team's success. He was followed by an inspirational speech from London Paralympic rowing champion David Smith who received a standing ovation after describing how he defied cancer four times and went on to succeed on the world stage in rowing and cycling.
Eoin Morgan's Leadership Lessons
Eoin Morgan is a left-handed batsman who plays county cricket for Middlesex. He has also played for England's Test, One Day International and Twenty20 International teams. This year, under his captaincy, England won the ICC Cricket World Cup for the first time. Eoin Morgan has also played for the Ireland cricket team and was the first player to score an ODI hundred for two nations.
Morgan described the four-year journey to becoming world champions and the vital role that good leadership played. He relived England's historic world cup final win over New Zealand, generously sharing insights and allowing attendees to re-live that dramatic super over through his eyes. Morgan highlighted the importance of giving a team clear instruction and being open about direction and motivation. He also emphasised that leadership is a two-way street and it is vital to listen to feedback and take on board the comments and advice from the whole team. He spoke humbly of his success and was very forthcoming about what he feels makes a great leader. Speaking candidly for over an hour, he received a standing ovation at the end.
Ruth Strauss Foundation
The occasion also served to raise awareness of, and funds for, the Ruth Strauss Foundation which is named in memory of the wife of Sir Andrew Strauss, former England captain. Ruth Strauss passed away from an inoperable form of lung cancer that attacks non-smokers. Her foundation seeks to provide support to patients and their families going through a similar experience and to fund research into rare lung cancers.
https://alexander-charles.co.uk/wp-content/uploads/2019/11/Eoin-Morgan.jpg
958
1688
Sabina Michnowicz
https://alexander-charles.co.uk/wp-content/uploads/2016/09/ac-logo-2016-2.png
Sabina Michnowicz
2019-11-28 12:24:29
2019-12-30 15:13:58
England Cricket World Champion: Captain Eoin Morgan's Leadership Advice